Genie Exhaust WA has been providing the Sound of Excellence to Western Australian's

since 1981.
When you say "I want to hear that deep throaty V8 sound"? We know what you mean.
If you say "It's making a weird droning noise in the car that goes right through me"! We know how to fix it.
Are you wondering how you are going to find a set of Extractors / Headers for your 1970's pride and joy? We can source them or fabricate some.
Is your 4×4 not towing as efficiently as you think it should? Come talk to us.
Exhaust scraping when going over speed bumps? We can sort out your clearance issues.
Getting a rotten egg smell from your exhaust? We know what that is.
Need some help to finish your project and get it licensed? Yep we can absolutely help with that too!
With so many years in the trade and many years of R&D we know what works and what doesn't. We have discovered through the years that every car has a personality just like their owners so one size does not fit all. Some like a bit of grunt, maybe a bit of rumble, some want it quiet, some want a bit of bark and at Genie Exhaust we understand all that and we know how to provide it.
Genie Exhaust can provide a solution to nearly every problem, there is not too much we can not help with.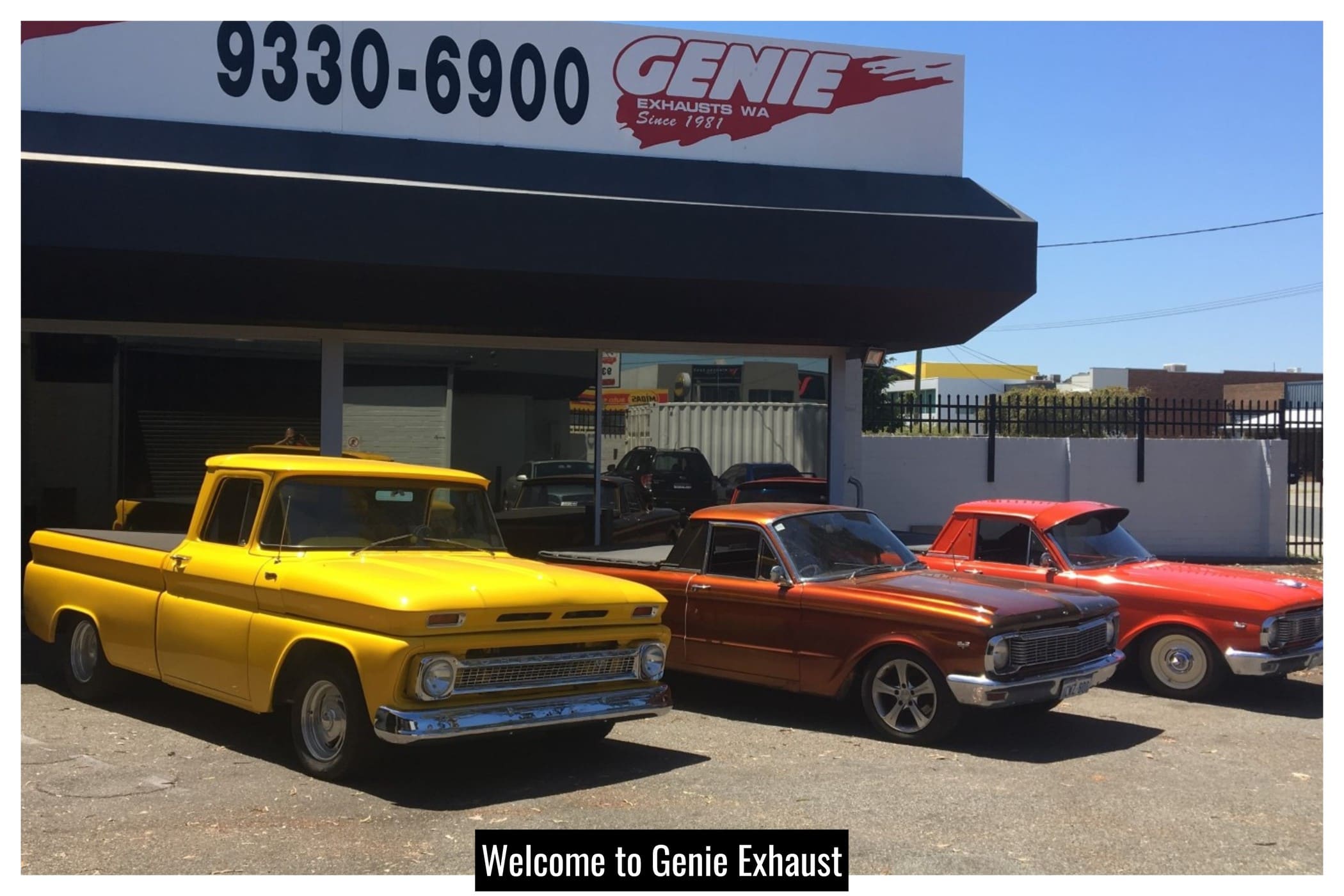 Call us today
Genie Exhaust can provide a  

Solution

    to nearly every problem, there is not too much we can not help with
Worried about leaving your pride and joy with us at Genie Exhaust? Don't be, we get that passion better than most, because we own some pretty special cars too. At Genie Exhaust we have things in place to protect your investment from guard and seat covers, great insurance cover, security and CCTV through to employing trade qualified and licensed repairers.
Learn more
No salespeople, No fluff just good
honest


advice and service.
At Genie Exhaust we have a real passion for old school cars, muscle cars, hot rods, performance cars and classics but don't be fooled by our specialties, we happily apply that passion and knowledge to anything with an engine, even the odd aeroplane engine, coffee machine or boat
Give us a CALL TODAY and let's see how we can help you.
| | |
| --- | --- |
| | (08) 9330 6900 |
| | |
| --- | --- |
| | sales@genie-exhaust.com.au |
| | |
| --- | --- |
| | 30 Shields Cres., Booragoon WA 6154 |